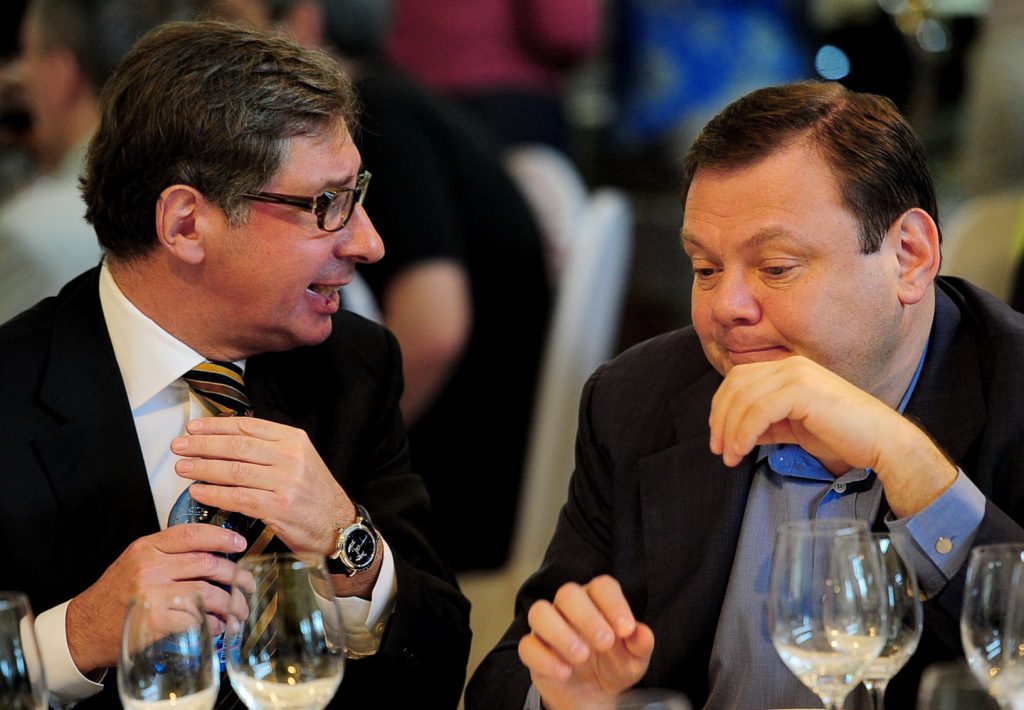 By JAKOB HANKE VELA
DRIVING THE WEEK: NEW RUSSIA SANCTIONS
EU CONCOCTS NEW PENALTIES PACKAGE: While you were enjoying some days off — and/or recovering from the EUCO summit — EU ambassadors were briefed in small groups over the weekend by Ursula von der Leyen's chief of staff Björn Seibert about the plans for the 10th sanctions package against Russia.
Playbook spoke to officials and diplomats about what's in the latest package, which national experts and ambassadors will discuss this week. Here's what they say is in it:
New financial sanctions: Against four Russian banks including Russia's largest private bank, Alfa bank, founded by Russian-Israeli billionaire Mikhail Fridman.
A ban on Russian nationals serving on boards of critical infrastructure companies in the EU, such as electricity grids or gas providers.
New listings of some 130 entities and people, proposed by Poland, Baltic countries, Germany, France and others. These include Russian military leaders, officials installed by Russia in the occupied territories in Ukraine, journalists working for Russian state media and propaganda such as Russia Today, as well as companies and individuals in other countries with links to Russia's war effort or the Wagner mercenary group — namely in Mali and Iran, which is accused of selling drones and components to Russia's military.
Additional trade bans on imports into the EU of Russian rubber and asphalt or bitumen (an oil product) and on exports into Russia of EU goods including trucks, other heavy vehicles, construction machines, pumps and other machines used in the construction sector. The package also includes additional export bans on electronic components that Russia could use to make weapons. It's unclear, officials said, whether diamonds will make it into the package.
Dubai shipping company in EU's crosshairs: Brussels is also planning to list a Dubai-based shipping company, suspected of helping Russia circumvent sanctions on oil exports, Playbook has learned.
The company is believed to have bought several Russian oil tankers, which were no longer allowed to ship oil because of EU and international sanctions on Russian-owned entities. Under their new Emirati ownership, the tankers can again ship oil. One EU country has now asked the EU to list that company in the new sanctions package, in order to prevent it from increasing Russia's capacity to export oil, two people involved in or briefed on the sanctions discussions told Playbook.
But shipping countries could oppose the move: Two diplomats and one official cautioned there had been some opposition from Mediterranean countries during confessionals. The tankers in the past operated under Cypriot flags, but are now believed to have changed their flags to a tax haven — so there should no longer be any logical reason for any EU country to oppose the move against those ships, one of them argued.
What's next: Ambassadors are now briefing their capitals about the Commission's plans and will discuss the package on Wednesday.
DRIVING THE DAY: ECONOMIC OUTLOOK
HOPING FOR POSITIVE SIGNS: Eurozone finance ministers are in Brussels today for their Eurogroup meeting, ahead of Tuesday's gathering of all 27 European finance ministers. There have been some positive signs on the horizon — the record inflation that has swept Europe has shown some sign of easing in recent weeks, though European Central Bank executive board member Isabel Schnabel said interest rates would remain high until the bank sees "robust evidence" that underlying inflation returns to the ECB's target.
Forecast time: Today's meeting coincides with the publication of the European Commission's winter economic forecast at 10 a.m. this morning — a closely-watched barometer that spells out where each country is heading economically. The announcement will no doubt feed into the Eurogroup's discussion of the bloc's macroeconomic prospects, including a debate on energy costs.
ALSO TODAY — EUROPE LAUNCHES UNICORN FUND: A group of EU countries and the European Investment Bank (EIB) will today also launch a new fund meant to help EU start-ups stay in Europe — and fend off American and Asian attempts to snatch up promising new companies, Spain's Finance Minister Nadia Calviño and officials from two other countries tell Playbook.
The plan for the European Tech Champions Initiative is to finance start-ups that are scaling up, Calviño explained.
To do that, the ministers from Germany, France, Italy, Spain and Belgium will today sign a joint venture with the European Investment Fund, Europe's biggest private equity financier and a subsidiary of the EIB, to launch the so-called "fund of funds" — which will inject fresh cash into private equity funds that in turn will be expected to fund promising start-ups on the verge of becoming big companies.
Bringing unicorns to life … The countries will pledge to throw fresh money into a pot that will help funds invest in start-ups "not at the beginning of their life, which the EU is already quite good at, but when they want to scale up and become unicorns," said an official from another country, who preferred to remain anonymous because he was not authorized to speak about the plan that was first conceived during the French presidency of the Council of the EU.
American angle: Financing unicorns — start-ups valued at €1 billion or more — requires attracting much bigger amounts of investment in "their third or fourth funding rounds," which is "when the Americans usually move in or when the companies have to leave Europe to move to the U.S. or Asia," said the same unnamed official.
According to that official, the hope is that the fund could help solve one of the EU's big conundrums: While the Continent is top-class in terms of conducting fundamental research, it has performed much worse than the U.S. and China when it comes to harnessing its own inventions and innovations to create big tech companies.
EUROPEAN PARLIAMENT
QATARGATE LATEST: Belgian MEP Marc Tarabella was charged on Saturday with corruption, money laundering and participation in a criminal organization in the probe over suspicions of corruption within the European Parliament. The Belgian prosecutor's spokesperson confirmed the charges to POLITICO's Camille Gijs.
His lawyer Maxim Töller told POLITICO that the Belgian MEP was transferred to the prison of St. Gilles in Brussels and that he would be heard on Thursday in a pre-trial hearing, which the Belgian prosecutor's spokesperson also confirmed.
Another arrest: Meanwhile, MEP Andrea Cozzolino was arrested Friday evening by Italian authorities executing a European arrest warrant issued by Belgium. He is now under house arrest in Italy, awaiting a decision on his extradition to Belgium. Both Tarabella and Cozzolino deny any wrongdoing.
AROUND EUROPE
FORMER FM CHRISTODOULIDES WINS PRESIDENTIAL ELECTION IN CYPRUS: Nikos Christodoulides was elected president of Cyprus on Sunday.
The former Cypriot foreign minister garnered 51.9 percent support in a runoff vote that was much tighter than initially expected, according to results announced by the state broadcaster of Cyprus. He was running against career diplomat Andreas Mavroyiannis, who took in 48.1 percent of the vote.
Soft on Russia criticism: Christodoulides has refused to explicitly back sanctions against Russia over its invasion of Ukraine, leading to accusations from his opponents that he is still sympathetic to Russian leaders.
CENTER-RIGHT WINS IN BERLIN: The center-right Christian Democrats (CDU) emerged the winners of Berlin's repeat state election on Sunday, with some 28.2 percent of the vote, way ahead of the Social Democrats and the Greens, which each secured 18.4 percent, according to preliminary results published last night by regional authorities.
The vote — a re-do of the September 2021 ballot — was ordered by the courts after the last election was plagued by dozens of mistakes and blunders (Berlin had brilliantly decided to hold a marathon the same day as the election), as Playbook reported at the time.
What's next: While the CDU has the biggest share of the votes, it's still unclear who will now govern Berlin — party leaders will have to agree on a new coalition in the coming days or weeks.
POLAND'S DUDA DERAILS WARSAW'S PLAN TO GET EU CASH: Poland's hopes of getting billions in EU recovery funds were derailed when President Andrzej Duda sent a crucial bill that rolls back judicial reforms to a top court for adjudication, POLITICO's Jan Cienski reports.
The bill is a key part of the "milestones" to address rule of law concerns, agreed between Warsaw and Brussels, without which the European Commission will not release €36 billion in grants and loans from its pandemic recovery fund.
Duda will not sign the law, but will send it to the Constitutional Tribunal for revision, he announced Friday, in a huge blow to the nationalist government.
Poland's ruling Law and Justice party (PiS) is desperate to get the EU cash released ahead of a parliamentary election this fall when it will try for a third term in office.
Duda's new independence: The president is closely allied with PiS, but he's in his second term as president and can't run for a third, which gives him more independence from the party, Jan reports. This is one of the first signs of rebellion from Duda, who has usually been fairly quiescent.
NEW PAPER — 7 COUNTRIES SKEPTICAL ABOUT EU ELECTRICITY MARKET REFORM: Seven EU countries have warned against a deep and hasty reform of the bloc's power market adopted "in crisis mode" in a joint letter setting out their priorities on the upcoming proposal, obtained by Playbook and POLITICO Pro Energy's Victor Jack.
Refresher: The highly-political reform of the EU's electricity market, which will focus on helping the bloc decarbonize its electricity system and lower prices for Europeans, has gained new impetus due to eye-watering energy prices faced by consumers over recent months, Victor reports.
Today also marks the end of the Commission's public consultation before it brings forward its legislative proposal.
Better safe than sorry: The policy assessment, backed by Germany, Denmark, Estonia, Finland, Luxembourg, Latvia and the Netherlands, calls for a "targeted approach" to reforming the bloc's wholesale market that does "not endanger the decarbonisation efforts and well-functioning of the electricity market." According to the document, "any reform going beyond … [this] should be underpinned by an in-depth impact assessment and should not be adopted in crisis mode."
More warnings: The seven countries also say they are "skeptical" about any attempts to make permanent the temporary and emergency measures agreed last year that set revenue limits on energy firms, and argue that so-called contracts for difference "should be voluntary" and "not be imposed retroactively."
RACE TO REPLACE STOLTENBERG: NATO Secretary General Jens Stoltenberg plans to step down from his post as planned in October, his spokeswoman Oana Lungescu told German news agency DPA, dismissing reports of another extension to his term.
COULD THIS BE SANNA MARIN'S LAST DANCE? Finland's Prime Minister Sanna Marin has two months to save her job, writes Charlie Duxbury. Since she took over as premier from misfiring predecessor Antti Rinne, Marin has emerged as a bright light on the European left at a time when it badly needs new energy. But as the country faces an election in April, her Social Democrats are trailing the center-right National Coalition Party under challenger Petteri Orpo. Read Charlie's full story on whether this campaign could be Marin's last dance.
AZERBAIJAN-ARMENIA LATEST: Azerbaijan is opening a new front against Armenia — but this one involves legal briefs and claims of environmental damage, not tanks and rockets. Azerbaijan is alleging that Armenia despoiled the environment of Nagorno-Karabakh, an ethnically Armenian enclave within Azerbaijan that has been warred over for 30 years; in 2020, a surprise offensive by Azerbaijan recaptured large chunks of the region. It's not the first time that a country is using environmental litigation as a political avenue to seek reparations or to assert territorial claims. Gabriel Gavin and Louise Guillot have the story.
'LUKE SKYWALKER' AIMS TO BE UKRAINE'S 'GOOD SOLDIER': Mark Hamill says his most important role isn't playing Star Wars' Luke Skywalker — it's helping Ukraine, as the actor works to support the country in its fight against Russia. In an exclusive interview with POLITICO, Hamill said his position as an ambassador for the fundraising platform United24's "Army of Drones" project "is much more meaningful than what I'm used to doing" and that he aims to be a "good soldier" for Volodymyr Zelenskyy. Read more from the interview here.
FRANCE VS DISNEY'S BLACK PANTHER: France's minister of the Armed Forces, Sébastien Lecornu, on Sunday slammed Disney's new "Black Panther" production, accusing it of depicting a "false and misleading representation of our Armed Forces."
Fact versus fiction: The movie presents Western countries, in particular France, and to a lesser degree the U.S., as attempting to steal the resources of Wakanda, a fictional high-tech African country.
In the episode slammed by Paris, mercenaries supposedly operating under French orders in Mali are accused of an attempt to plunder resources. A journalist cited by Lecornu remarked that the fictional mercenaries were dressed like actual French forces of the Barkhane mission in Mali — where French forces had been fighting Islamic extremists at the request of Mali's government since 2013 before announcing a withdrawal last year.