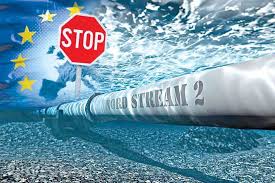 France has urged Germany to scrap a major gas pipeline project — Nord Stream 2 — with Russia. EU members are considering sanctions over the detention of Alexei Navalny and a crackdown against his supporters.
French European Affairs Minister Clement Beaune on Monday said France had urged Germany to drop the Nord Stream II project, particularly after recent mass arrests of supporters of detained Russian opposition leader Alexei Navalny.
The US and several European countries such as Poland have strongly criticized the building of the pipeline, saying it will increase German and EU reliance on Russia for critical gas supplies. France has been less vocal in its opposition but has voiced concern.
"We have always said we have the greatest doubts on this project in this context," Beaune told France Inter radio.
Beaune was asked if Paris wanted Berlin to drop the project: "Indeed, we have already said this," he answered.
The calls came after Vladimir Putin's crackdown on the opposition led by Navalny, who was arrested in mid-January and faces a trial that could see him detained for years.
"Sanctions have already been imposed, we could do that, but we have to be clear, they will not be enough. The Nord Stream 2 option is one under consideration," Beaune said, while acknowledging: "It's a decision for Germany, because the pipeline is in Germany."
The European Parliament has also demanded that the pipeline's construction should be put on hold immediately.
Berlin is demanding Navalny's release but, on Monday, Chancellor Angela Merkel's spokeswoman Martina Fietz said the government had not changed its mind on Nord Stream 2. Fietz said she had "no new updates" on the project, which Merkel strongly supports. "The government has not changed its basic position," she told reporters.
Work resumed on Nord Stream 2 in December after being on hold for almost a year because of American sanctions.
Could a cancellation backfire?
Green party politician Jürgen Trittin, a former German environment minister, told DW he believed cancellation of the pipeline would be futile. The pipeline's Russian developers would receive legal damages from Germany while still being able to export their gas by other means.
"I have never been a friend of this pipeline, but to stop it at this point in time would possibly have a very high price, without achieving any real effect," he said. "After all, Russia has plenty of opportunities to export its gas via other routes."
Meanwhile, Renate Alt, a Bundestag lawmaker with Germany's pro-business Free Democrats, said she believed a moratorium should be imposed on the building of the project.
"It is important now that a stop to construction, a moratorium, is imposed until the Russian side moves, as far as the clarification of the poisoning of Alexei Navalny is concerned," Alt told DW.
"As long as this is not clear and as long as these protests are put down so brutally… we must not allow the pipeline to simply continue to be built."
Russian energy giant Gazprom — the main investor in the project — says Nord Stream 2 is now 94% complete.
Nord Stream 2 consists of two pipes, each around 1,230 kilometers (765 miles) long, and would be expected to deliver tens of billions of cubic meters of natural ga