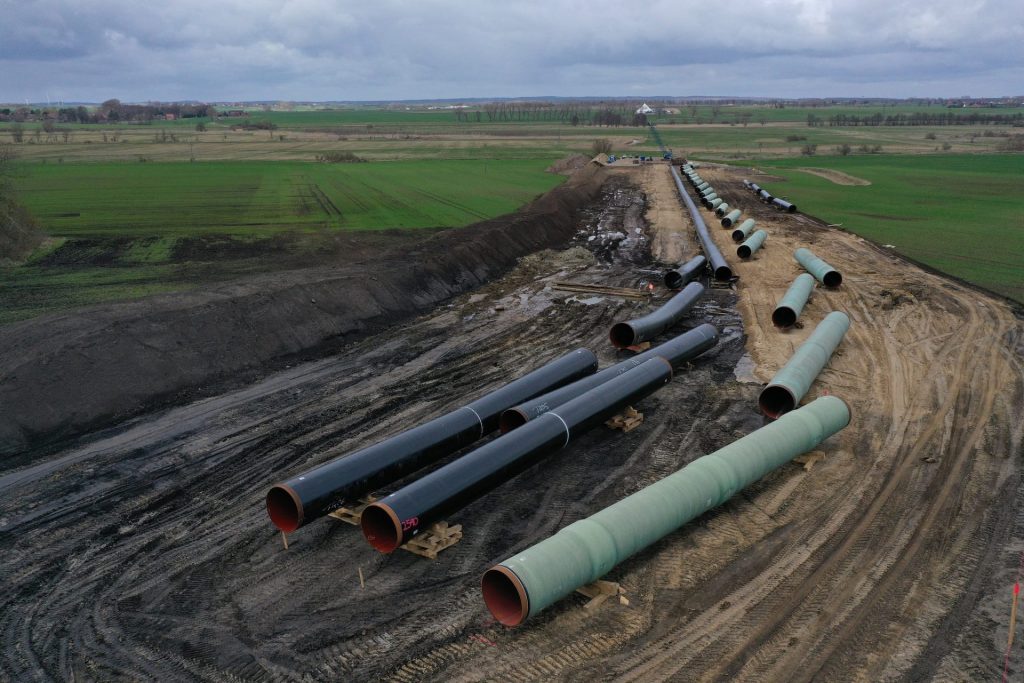 Nord Stream 2, a major Russian natural gas pipeline that bypasses Ukraine and Poland, can finish construction.
BRUSSELS — Denmark gave permission on Wednesday for a natural gas pipeline from Russia to Germany to pass through waters in its exclusive economic zone, meaning that the project, Nord Stream 2, can be completed despite sharp criticism from the United States, Ukraine and Poland.
With nearly all of its 2,400 kilometers of pipe already laid, Nord Stream 2, wholly owned by Russia's Gazprom, should be completed roughly on schedule early next year. It is actually a pair of pipelines, complementing a previous pair, Nord Stream 1, and will double capacity to 110 billion cubic meters, or about 3.9 trillion cubic feet.
The pipelines are sensitive geopolitically, because they increase German and European dependence on Russian natural gas while bypassing Ukraine and Poland, cutting off some transit fees for those two economies. Some critics believe that Russia is trying to harm Ukraine's economy in particular, especially after the 2014 annexation of Crimea and the continuing warfare in eastern Ukraine.
The pipelines have been strongly supported by the Russian and German governments. But Berlin has responded to critics of the project by promising to ensure that Ukraine continues to benefit from gas transit revenue. Europe's demand for natural gas is increasing even as local supplies from the Netherlands and the North Sea are dwindling.
Workers building a section of the pipeline near Leningrad. The project is expected to increase German and European dependence on Russian natural gas.Credit…Anton Vaganov/Reuters
Sebastian Sass, who represents Nord Stream 2 AG, the pipeline company, before the European Union, argues that Ukrainian vulnerability is exaggerated. He contends that Europe's need for cheap natural gas, as use of coal and nuclear power shrinks, will increase sufficiently to ensure that Russian gas will continue to travel through Ukrainian pipelines, too.
President Trump has said the new pipeline "really makes Germany a hostage to Russia," while Senator Ted Cruz, Republican of Texas, has said it would encourage Russian "military adventurism." Both men have threatened to impose American economic sanctions, presumably on the companies building the pipelines.
But with construction nearly complete, analysts believe that it would be too late for any sanctions to hinder the project.
American officials say that the pipelines damage Europe's "energy independence" and that Russia should not be trusted. They argue that some 40 percent of the Russian budget comes from oil and gas production, helping to finance Russian military spending. Gazprom, which is majority owned by the Russian government, also owns 51 percent of Nord Stream 1.
Germany's minister for economic affairs and energy, Peter Altmaier, has not ruled out importing liquefied natural gas from the United States, but only to supplement Russian gas, and only if the price is right.
Given Germany's turn away from nuclear power, it already depends more on coal than environmentalists would like. Natural gas produces roughly half the carbon dioxide of coal, so cheap gas is attractive in a country where energy prices are already very high, given big subsidies for renewables like wind and solar.
But Germany's press for the pipelines has undermined European Union solidarity, critics argue.
"Nord Stream is politically sensitive because it fractures Europe strategically between the interests of Germany and the interests of everyone else," said Kristine Berzina, a senior fellow at the German Marshall Fund in Brussels. "That creates a lot of mistrust and tensions with Poland and Ukraine."
Credit…

Bernd Wuestneck/DPA, via Associated Press
But even pipeline opponents in Germany, like Norbert Röttgen, the chairman of the German Parliament's foreign relations committee, believe that it is too late for American sanctions to stop the project.
Even worse, he said, American sanctions "would be a heavy blow to trans-Atlanticists," who are already defensive about fierce Trump criticism of Chancellor Angela Merkel and her policies, and could set off another chapter in a trade war.
For Mr. Röttgen, a member of Ms. Merkel's party, the pipelines are already a Russian success. "Russia is driving a wedge between Germany and its eastern neighbors, between Germany and the E.U., and between Germany and the United States," he said.
In Berlin, asked whether any political obstacles to the project remain, a German government spokesman, Steffen Seibert, said: "We have always said that there is a political dimension to Nord Stream 2, and we have always said that gas transit through Ukraine must have a future."
He said that Ms. Merkel had discussed the issue with Russian President Vladimir V. Putin two days ago, and that Germany continues to support three-way talks between Russia, Ukraine and the European Commission on gas transit.
The paired pipelines of Nord Stream 2 were intended to follow the route under the Baltic Sea of Nord Stream 1, which opened in 2011 and is already at full capacity. But given political pressure, Denmark refused to approve the original route through its territorial waters. Nord Stream 2 withdrew its original application on June 28, after proposing detours around the Danish island of Bornholm.
The detours avoided territorial waters, instead passing through Denmark's exclusive economic zone, which meant that Copenhagen could deny the application only on environmental, not political, grounds. On Wednesday, more than two and a half years after the original route application, the Danish Energy Agency approved the route southeast of Bornholm, covering a section of 147 kilometers.
Nord Stream 2 is estimated to cost 9.5 billion euros (about $10.5 billion). While Gazprom owns the pipeline, half the financing of the €8 billion capital cost comes from five European companies: Uniper and Wintershall of Germany, OMV of Austria, Engie of France and Royal Dutch Shell.