ON APRIL 28, 2018, an unusual shipment left Russia, bound for Panama. The shipment included two small packages each weighing just 900 grams (2 pounds)…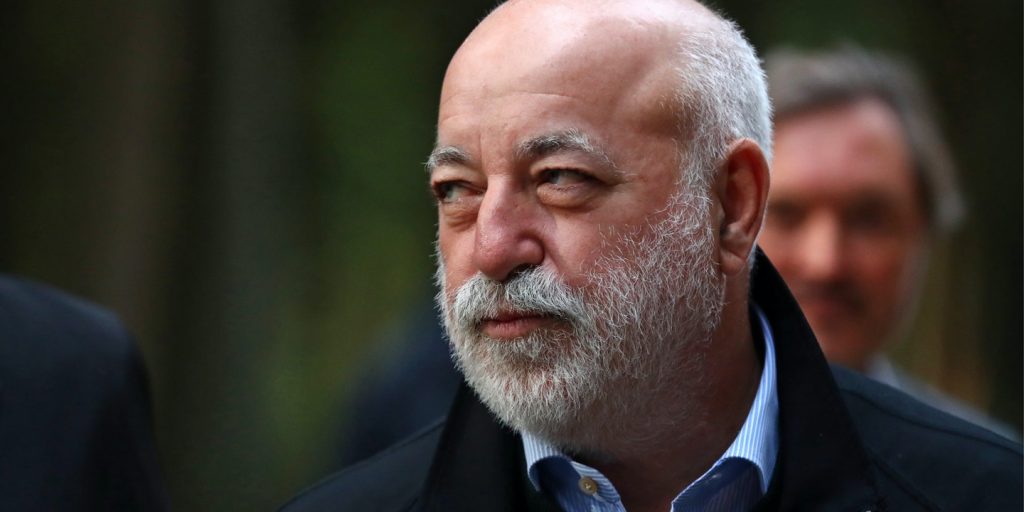 ON APRIL 28, 2018, an unusual shipment left Russia, bound for Panama. The shipment included two small packages each weighing just 900 grams (2 pounds) with packaging, and under 200 grams without. Their small size belied their worth; shipping documents valued them at $55,063 and $163,089.63, respectively. A third package — the most intriguing — weighed 181.7 kilograms with packaging, and 65.13 kilograms — almost 144 pounds —  without. Its listed value: $46,862,560.
The shipping documents offer some tantalizing clues to their contents. The items are listed as shipped from Rosizo, an organization linked to Russia's Ministry of Culture, and classified as antiques more than 100 years old.
The recipient of the shipment is Lamesa Arts Inc., a company listed in Panama and owned by Viktor Vekselberg, a Russian oligarch worth $13 billion. Vekselberg is famous for his yearslong effort to acquire Fabergé eggs and repatriate them to his country for public display.
And that's where the shipping documents, discovered by William George, an analyst with Import Genius, which compiles a database of such records, get even more intriguing. In the column next to the heaviest item's export date, the shipping record for "trade mark" translates to "FABERGE RUSSIA." Earlier that month, Vekselberg had been placed under crippling sanctions by the United States government.
THE HOUSE OF FABERGÉ produced countless exquisite and eccentric works of art, many of which are displayed at Vekselberg's Fabergé Museum, but the jeweler is most famous for its eggs.
In 1885, Tsar Alexander III gifted his wife, Maria Feodorovna, an Easter egg that had been crafted from jewels by Peter Carl Fabergé. Over the next several decades, the House of Fabergé continued producing jeweled eggs for the royal family, and a Russian heirloom was born. Throughout the 20th century, the eggs, originally as many as 69 in number, scattered around the globe in the wake of the Russian Revolution. Now, there are said to be 46 Imperial eggs known to be in existence. After the fall of the Soviet Union and the rise of the oligarch class, one man began an effort to reclaim them for Russia and bring them home.
Vekselberg, who now owns more Fabergé Imperial eggs than any other person in the world, purchased nine, which weigh about 400 grams each, from the Forbes family back in 2004 for an estimated $100 million. In 2013, he opened the Fabergé Museum in Saint Petersburg, to display his nine eggs as well as other Russian cultural art pieces. ("Vekselberg Shows His Eggs to the Public," read one cheeky and now-famous headline, announcing the exhibit.)
Vekselberg loved Fabergé so much he even sued over rights to the Fabergé brand, which had been owned by the consumer goods corporation Unilever, but was sold to Brian Gilbertson, a South African mining tycoon. Vekselberg wanted the Fabergé brand to be held by a Panamanian company he owned known as Lamesa Arts, according to court documents, and reportedly had wanted to buy the Fabergé brand as a Christmas present for his wife. Vekselberg, who frequently did business with Gilbertson, claimed that he got squeezed out of the deal; Gilbertson claimed Vekselberg had made last-minute demands. In 2012 a Cayman Island judge ruled in Vekselberg's favor, but awarded him no compensation. (The decision was later appealed, and the decision, for the most part, upheld.)
The shipping destination listed for Lamesa Arts for all four of the Russian exports was Urbanizacion Marbella, 53 RD Street, an address that also appears in the International Consortium of Investigative Journalists Offshore Leaks database as the location of the MMG tower, an office and retail building. Separate records also indicate Lamesa Arts Inc. is housed in the MMG tower. Lamesa Arts's legal representative, according to corporate documents, is Morgan & Morgan, which has Panamanian offices in MMG tower. The shipping records include a fourth package which was sent January 25, 2019, weighing 470 grams without packaging, and valued at $177,618.86.
George, the shipping analyst, said that the Fabergé discovery highlights the value of transparent shipping records when it comes to tracing the flow of wealth. "This is a great example of how important transparency in trade data is for public oversight," he said.
It's not known what precisely was in the packages marked as antiquities, given the breadth of decorative objects produced by the House of Fabergé. Indeed, the eggs may still be residing in Russia, and the package may have been stuffed with other Fabergé valuables. In July 2019, Russia's culture minister announced that Rosizo, in charge of exhibitions, had been stripped of some of its responsibilities, as it had too many and "couldn't handle them all." Rosizo did not respond to requests for comment and neither did representatives from the Ministry of Culture nor Vekselberg's spokesperson. The Fabergé Museum is currently closed due to the coronavirus pandemic and did not return a request for comment.
In recent years Vekselberg has found himself in the crosshairs of rising tensions between the U.S and Russia. In 2017, according to Bloomberg News, Vekselberg had been assuring fellow businessmen and Russian leaders that he could influence the Trump White House. (A spokesperson for Putin denied this to Bloomberg News.) Vekselberg attended Trump's swearing-in ceremony as a guest of his American cousin, Andrew Intrater, who donated $250,000 to Trump's inauguration.
But by the year's end, Russian oligarchs began disposing of their assets, anticipating new American sanctions were coming for those with close ties to the Kremlin. It was reported that in late 2017 Vekselberg sold a large chunk of shares he owned in a Petropavlovsk gold-mining company to an offshore company.
And, indeed, on April 6, 2018, shortly after Vekselberg was questioned by special counsel Robert Mueller's team, the U.S. slapped new sanctions on several Russian oligarchs. The targets included Vekselberg and Renova Group, his holding company, to punish Moscow for "malign activity," including suspected meddling in the 2016 U.S. election. (Vekselberg has not been accused of interfering in the election.) In the wake of the sanctions, Vekselberg has grown concerned, Bloomberg reported, that his family — his grandchildren are American — won't be able to inherit even a small amount of his wealth. Three weeks after sanctions were announced, the Fabergé shipment was bound for Panama.