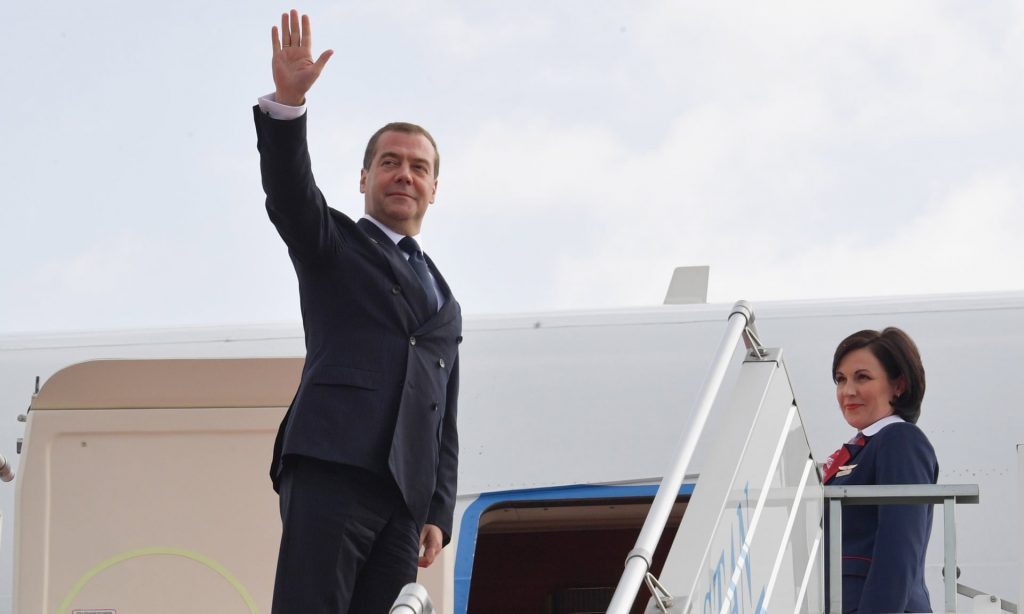 Anticorruption activist Alexei Navalny says PM Dmitry Medvedev and head of VTB Bank using aircraft illegally
The Russian anticorruption activist Alexei Navalny has claimed that the prime minister, Dmitry Medvedev, has appropriated a commercial jet for his wife's private use, the latest in a series of viral investigations into the use by senior officials of planes, yachts and expensive mansions for their families and lovers.
In another alleged case, a state television anchor was lavished with gifts from the head of a Kremlin-linked bank, and then dedicated a plaque in New York's Central Park to him that said: "Don't forget we are of the same blood. I LOVE YOU."
Using flight and corporate records, the veteran whistleblower has argued that Russian officials are quietly reassigning aircraft from the Kremlin-run bank VTB to offshore companies in order to fly their significant others on expensive vacations to Europe and business trips in Russia.
"Your wife uses a private jet Bombardier 5000 which costs $50m. She flew for many hours … Who paid for this? Whose jet is it?" Navalny said, addressing Medvedev, in a video, released ahead of an annual press conference held by the former Russian president and ally of Vladimir Putin.
In a separate viral video released earlier this week, Navalny claimed that Andrey Kostin, the head of VTB Bank, had similarly appropriated a Bombardier Global 6000 business jet and a yacht for his reported girlfriend, Nailya Asker-Zade, a prominent television journalist on state-run Russia-24