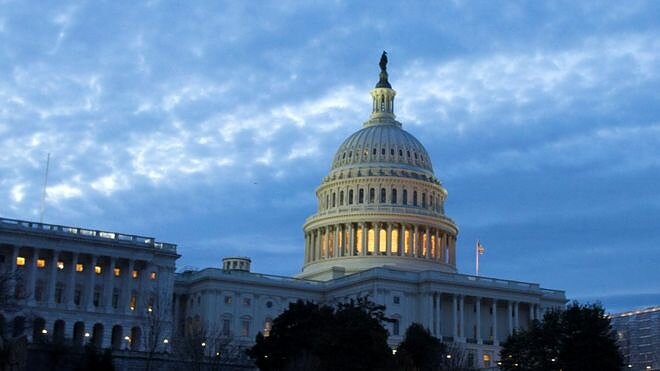 This week, a delegation of the Free Russia Forum (FRF) is on a working visit to Washington, DC.
Members of the FRF Standing Committee, Ivan Tyutrin, Andrei Illarionov, and Ilya Ponomarev, will present a report on the updated "Putin List," an ever-expanding project that reveals key organizers, executors, and accomplices of the Putin regime's crimes.
Delegates will speak to key US institutional audiences: the Congress, executive agencies, and think-tanks. On December 4, at the George Washington University, they will share their views on the political situation in Russia and talk about the results of the FRF activity, an opposition platform that has been operating since 2016.
They will pay special attention to the recent 8th Free Russia Forum, a significant event held on November 9-10. It again confirmed its importance as the leading Russian political platform opposing the Kremlin and accumulating opposition resources by the special status of guests and speakers, as well as by the overall size of the audience involved. Among the speakers was Oleg Sentsov, a former Ukrainian political prisoner whom Moscow held for more than five years. He was released in September 2019 only after Kyiv had agreed to hand over to Russia the main witness in the shooting down of the Malaysian Boeing by the Russian Buk anti-aircraft missile system in the summer of 2014 in the occupied Donbas.
Garry Kasparov gave such an assessment to the recent Forum held in Vilnius: "The forum is gaining momentum and each time is increasing not only quantitatively, but also qualitatively. It is important that activists from the Russian regions are keeping their interest in the Forum. Moreover, there are twice as many representatives of the Russian regions as emigrants at the Forum and this proportion remains."
The current visit of the FRF representatives to Washington is the second in a row. They first presented "Putin's List" to the Congress last November. The document, published on the website of the same name (spisok-putina.org), comprises more than 300 names, distributed in eight categories. Among them are the top Russian leadership, heads of certain departments and state corporations, businessmen close to the Kremlin, relatives of people from the "inner circle" of Vladimir Putin, propagandists, foreign accomplices of Putin's Russia, as well as representatives of separatist entities controlled by Moscow.