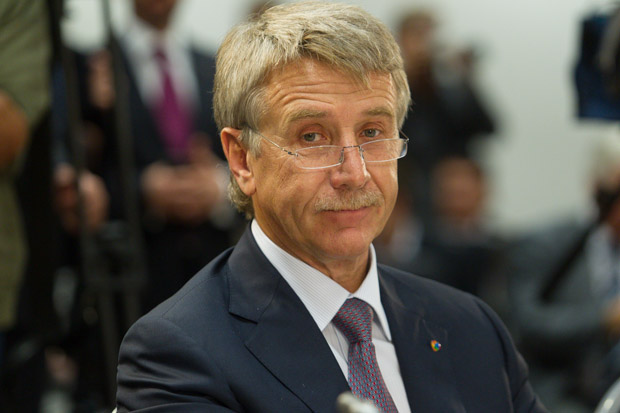 These men, personally or through foundations or companies they control, have given to arts organizations in the West and sponsored events that celebrate Russian culture abroad.
Leonid Mikhelson
Chairman and major shareholder of Novatek
GIFTS: Mr. Mikhelson's V-A-C Foundation has the goal of promoting Russian contemporary art internationally. He has given to the New Museum, and the Tate Modern in Britain. His foundation helped to finance a 2017 show on Soviet art at the Art Institute of Chicago, which the museum says its own curators developed.
WEALTH: Novatek, which has been under limited sanctions since 2014, is Russia's largest nongovernment-owned natural gas supplier. He also owns a large stake in Sibur, a petrochemicals company.
Viktor Vekselberg
Founder and principal owner of Renova Group
GIFTS: Mr. Vekselberg, either personally or through his company or foundation, has donated to Lincoln Center, Carnegie Hall, the Museum of Modern Art, the Tate Modern in London and Fort Ross in California.
WEALTH: Mr. Vekselberg, a billionaire, made his fortune when Russia's oil and aluminum industries were privatized. He and his company have been under sanctions since 2018.
Vladimir Potanin
Founder and president of Interros
GIFTS: He has been a donor to the Guggenheim Museum since 2002. More recently he gave $6.45 million to the Kennedy Center in Washington.
WEALTH: He made his fortune in Russian banking and natural resources, including a major stake in one of the world's largest nickel producers.
Petr Aven
Chairman and a principal owner of Alfa Bank and co-founder of LetterOne
GIFTS: He and his companies have sponsored exhibitions of Russian art at the Tate Modern and the Guggenheim. Mr. Aven, a trustee at the Royal Academy of Arts in London, also lent paintings from his collection of Russian art for a show at New York's Neue Galerie in 2015.
WEALTH: His fortune is derived in part from Alfa Bank, one of Russia's largest, and LetterOne, which invests in energy and telecoms, among other sectors.
Andrey Kostin
President and chairman of VTB Bank
GIFTS: The bank he leads has been a major financial supporter of Russia's Mariinsky Theater, the Bolshoi Ballet and the Eifman Ballet, which have performed at venues across the United States. VTB has also given directly to the Kennedy Center.
WEALTH: Mr. Kostin is wealthy but his power stems from his role with Russia's second largest bank, VTB, which is state-controlled and has been under limited sanctions since 2014. Mr. Kostin, who has been under personal sanctions since last year, serves on the Bolshoi and Mariinsky boards.
Mikhail D. Prokhorov
Founder of the investment company Onexim Group
GIFTS: He gave $1 million to the Brooklyn Academy of Music in 2012 for a three-year program of cultural exchanges between the United States and Russia.
WEALTH: A billionaire, he derives his fortune from Russian natural resources and banking. Until recently, he was the majority owner of the Brooklyn Nets basketball team.