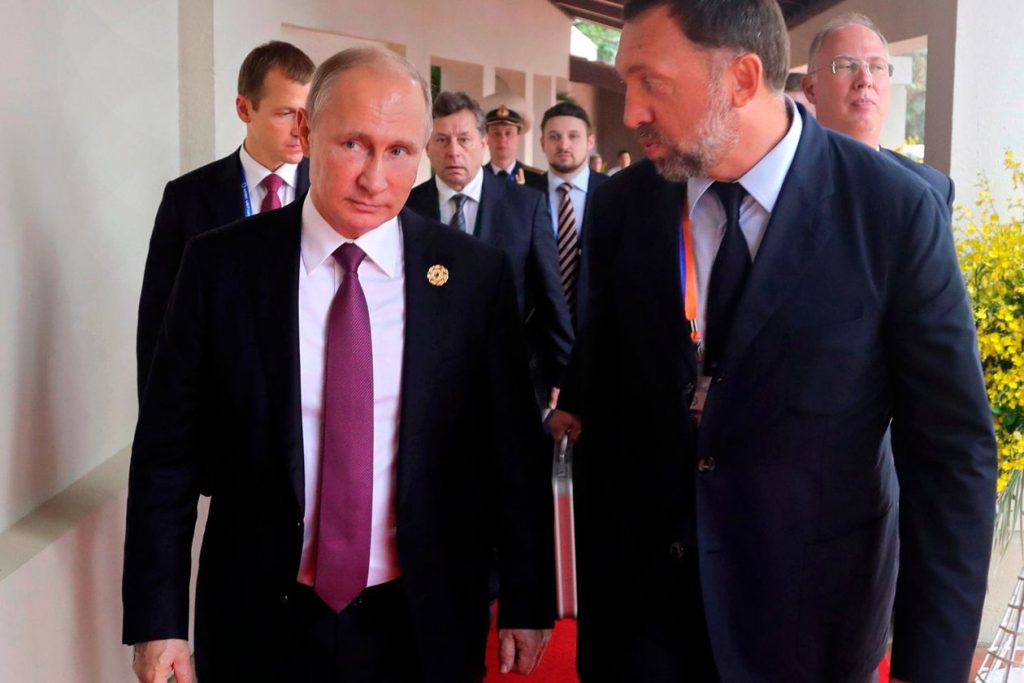 MOSCOW—When U.S. sanctions forced Western banks to call in more than $200 million in loans from Oleg Deripaska 's automobile manufacturer last year, the Russian tycoon turned to a deep-pocketed backer to bail him out: the Kremlin.
Mr. Deripaska's car maker GAZ took out a raft of loans from Russian state-controlled banks, including VTB Bank and Sberbank , to pay off his Western creditors. Today, he says, the company has no loans with the West—while its debt to the Russian state has swelled to $1.4 billion.
"In the end, there's a lender of last resort and investor of last resort," Mr. Deripaska said in an interview.
Mr. Deripaska's debt shuffle is part of a shift in the Russian economy that accelerated when the West began to impose sanctions on Russia in 2014 after Moscow annexed the Crimean Peninsula and launched a covert military operation in eastern Ukraine.
Though some sanctions were meant to split Russia's economic elite from the Kremlin, they have pushed sanctioned individuals closer to the Russian government—which has become the largest creditor in the country.
The Kremlin's growing role in the economy is part of a longer-running trend under President Vladimir Putin, who vastly expanded state ownership of industries in his 20-year reign, and often appointed longtime allies as managers. Many of those now facing sanctions grew rich under his rule.
Even before the U.S. began piling sanctions on Russian oligarchs, Mr. Deripaska had difficulty getting a visa to the U.S. because of alleged ties to criminal groups, a charge that Mr. Deripaska denies.
Mr. Deripaska's onetime aluminum company United Co. Rusal PLC was blacklisted together with GAZ by the Treasury Department last year for what the U.S. said was his supporting role in malign Russian activities abroad.
Sanctions on Rusal were eventually retracted, but Mr. Deripaska, anticipating the effects of sanctions on GAZ sales, said the auto maker's management of GAZ asked the government for 30 billion rubles (over $450 million) of support. Such a move would likely give the state a new and significant stake in one of Russia's most competitive automotive companies.
Mr. Deripaska dismissed accusations of his role in Russia's activities abroad and said he wasn't involved in any Russian attempts to influence the 2016 U.S. presidential election.
Western banks now tend to edge away from lending to Russian corporations of any kind, fearing that the complications are too great. That has pushed Russian companies closer to native banks, the largest of which are state-run.
Even unsanctioned state-owned companies have joined in the trend, moving toward state banks instead of international banks, said William Jackson, emerging-markets economist at Capital Economics, a research consulting firm based in London. Sanctions have accelerated the growth of the state's role in the Russian economy, he said.
Of all bank loans in Russia last year, 70% were provided by state banks, up from around 64% in 2016, according to data from Fitch. Russia's top 10 private banks' share of the loan market fell to 11% from 17% for the same period. Government funding of the banking system more than doubled to 8.44 billion rubles in 2018 from 3.55 billion rubles in 2016.
The state's growing stake represents a reversal after an era of privatizations in the 1990s that were intended to dismantle the vestiges of Soviet-era state control.
Mr. Deripaska calls the government's growing reach into the economy through loans and credit deals "soft nationalization."
"We are a private group, we operate on the market and any government subsidy is not free cake," he said, pointing to the government's growing influence in the private sector through one-off aid packages.
Daniel Fried, a former U.S. assistant secretary of state who helped implement sanctions policy before his retirement in 2017, disputed criticism that sanctions are giving the Russian government an advantage.
"I am sure [sanctions] are not flawless, but they have put pressure on Putinism," he said.
Tycoons who are benefiting from Mr. Putin's rule, Mr. Fried said, "are learning that they will be stuck in the system that they are supporting—they may be super rich there, but they are isolated."
Mr. Fried said sanctions against individuals and their companies and broader ones against sectors of the Russian economy have shaved more than 1% off Russia's annual economic growth, which the International Monetary Fund has forecast this year to be 1.2%. Real incomes, meanwhile, have declined steadily in recent years, fueling discontent with Mr. Putin's rule.
The Kremlin is taking pains to reward some tycoons for their loyalty when they are named by the U.S., Mr. Fried said. For example, after Washington announced sanctions against longtime Putin ally Arkady Rotenberg in 2014, the Kremlin awarded a contract to collect taxes on truckers to a company controlled by Mr. Rotenberg's son. The contract and the taxes prompted public criticism and protests in Russia.
Mr. Deripaska isn't alone in looking to the state for support. The U.S. sanctioned six other Russian businessmen last year, including Viktor Vekselberg. Mr. Vekselberg's holding company, Renova Group, asked for almost $900 million from state banks to make up for loans called by Western banks, Russian media reported in May 2018.
In the defense sector, more companies facing sanctions are being bought up by Russia's state arms contractor, Rostec. Rostec bought United Aircraft Corp. last year, after years of losses at the U.S.-sanctioned aerospace and defense manufacturer.
U.S. measures have also hit banks close to the state, forcing the government to come to their rescue.
Russia's bailout of development bank VEB is perhaps the largest example. The lender was sanctioned by the U.S. in 2014 for its role in supporting Russia's military interventions in Ukraine.
At the time, the bank had more than $10 billion in debts, much of it foreign, after it footed much of the bill to construct stadiums and arenas in Sochi, where Russia hosted the 2014 Winter Olympics. When sanctions cut the bank off from Western lending, the state helped refinance the loans and plowed cash into the bank to help it meet debt payments, according to people in Russian finance.
Mr. Deripaska said his businesses could limp along for years in the face of U.S. sanctions, and thanks to state-backed loans.
Although U.S. sanctions targeted Russian state-run banks, the government is awash in cash from oil and metals revenues, and the Russian central bank has more than $500 billion—one-third of the country's GDP—in currency reserves and gold, according to central bank data.