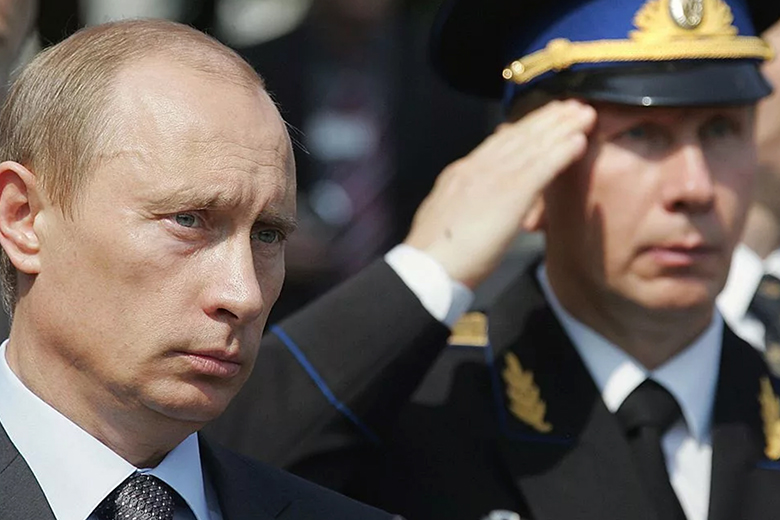 The other day, several media outlets reported that Director of the National Guard of the Russian Federation or Rosgvardia, Viktor Zolotov, had allied with Russian oligarch Oleg Deripaska. Zolotov's son-in-law, 42-year-old Yury Chechikhin, became a business partner of the Russian billionaire. Although, as The CrimeRussia found out, the said act of 'family rapprochement' occurred in July last year, and the 'commonwealth' of the son-in-law of the country's main National Guard officer with the 'Aluminum King' of Russia remained almost unnoticed all this time.
Why does Deripaska need Chechikhin?
Thus, Oleg Deripaska gave Yury Chechikhin 9% in his construction business, Glavstroy-invest LLC. However, changes in the composition of the shareholders of Glavstroy-invest, which is part of the construction unit of Deripaska's Bazovy Element Holding (Basic Element), occurred in July last year. As follows from the Uniform State Register of Legal Entities, it was then that Yury Chechikhin became the owner of 9% assets, and the remaining 90.9% stayed with Oleg Deripaska's structure, which he owns through the Cypriot company Fenestraria Consultans Ltd and Basic Element Ltd, registered in Jersey. That is, after the imposition of US sanctions that affected the business of the 'Aluminum King', the billionaire did not directly own Glavstroy-invest LLC.
Billionaire Oleg Deripaska
So why did billionaire Deripaska need Yury Chechikhin? As they say, "it's nothing personal, it's just money." To get his assets out of the 'sanction pressure', Deripaska simply sold them, which was nothing supernatural.
Yury Chechikhin has been registered as a co-founder of Glavstroy-invest since July 2018
It is known that Glavstroy-invest LLC owns a full stake in Glavstroy-SPb Specialized Developer, which earns several billion rubles a year, including on state contracts. In particular, it is Glavstroy-invest's subsidiary that is currently erecting three residential complexes in St. Petersburg, namely Yuntolovo, Severnaya Dolina ('Northern Valley'), and Panorama 360, as well as Stolichny residential complex in the Moscow region. In total, according to the single housing information system, Glavstroy-SPb LLC had building permits for 521 thousand m² of residential real estate last year.
Glavstroy-SPb is a subsidiary of Glavstroy-invest LLC
Yury Chechikhin was a member of the board of directors of Glavstroy-SPb back in November 2017. At the time, he also served as deputy general director of the energy efficiency center Inter RAO UES.
Yury Chechikhin
So why did the Deripaska's transfer of a stake in Glavstroy-invest to Yury Chechikhin cause a stir only a year later? We suppose that it was due to the fact that Chechikhin was Viktor Zolotov's son-in-law. To recall, his National Guard officers gave opposition activists a sound thrashing during the summer protests in Moscow. At the same time, when Viktor Zolotov expresses his opinion about the protests for the first time, he blamed opposition leaders for the street clashes, thus supporting the use of force by his subordinates.Media business and constructionIt is noteworthy that Yury Chechikhin is the founder of 11 enterprises, of which four are currently inactive.
Chechikhin is a founder of 11 companies
Some of those companies have (or used to have) a direct relationship with the media business. It is known that Chechikhin produced several films, including the film Obstoyatelstva ('Circumstances') and the TV series Vorotyly, together with his wife's brother, Roman Zolotov. By the way, Obstoyatelstva failed at the box office, collecting only $54 thousand with the total budget of $1 million. Roman Zolotov and Yury Chechikhin owned the company Festivali I Kino ('Festivals and Cinema') on an equal footing (Roman Zolotov even starred in the TV series Chest' Imeyu ('The Honor is Mine')). In addition, in the period from 2009 to 2011, Chechikhin served as general director of the Izvestia newspaper.
Roman Zolotov is a friend, colleague, and relative of Chechikhin
A number of media report that allegedly, Yury Chechikhin had never before been involved in the construction business, and that his status as Oleg Deripaska's partner in this regard looks rather strange – cinema and construction are completely different categories.But this is not true. According to the Uniform State Register of Legal Entities published above, apart from film making, Yury Chechikhin was also quite successful in construction. At least two organizations – the non-profit partnership of individual developers (NPIZ) Lesnye Dali-2 and Domstroy LLC, whose founder is Chechikhin, and which operate to this day – indicate his involvement in construction business. According to the information available, Domstroy carried out repairs of the Mozhaisky recreation center for the Ministry of Defense, which means it was a state order. According to the public procurement website, Chechikhin's organization currently provides office accommodation for prosecutors. Therefore, Yury Chechikhin is no stranger to construction.
General Zolotov's 'golden' family
In all fairness, it should be stressed that the current business partnership of Yury Chechikhin with Oleg Deripaska is unlikely to play any important role in Viktor Zolotov family's 'gold'. As known, Viktor Zolotov was Vladimir Putin's main bodyguard for 10 years (he headed the Presidential Security Service until 2013). In 2016, he became head of the National Guard troops. General Zolotov is clearly not a man in poverty, which he does not hide.
General Viktor Zolotov
"I'm not a poor person. Unlike you, who was going potty at the time, I served in the army, worked in production, was a shock worker of Communist labor, and then run a business," he said on YouTube when challenging Alexey Navalny to a duel.
Back then, many were surprised that Viktor Zolotov was engaged in entrepreneurial activity, since his official biography contained only government posts in the Presidential Security Service, the Ministry of Internal Affairs, and the National Guard, which he held since 1990.
Viktor Zolotov was Vladimir Putin's personal bodyguard
Media found at least 4 land plots with a total area of 2.6 hectares, 4 apartments (1016 m²) and 5 houses (2488 m²) belonging to the Zolotov family; all property is located in different regions of Russia.
Almost everything that the current director of the National Guard worked so hard to achieve (except, perhaps, a Gelendzhik apartment with an area of 189 m² worth 17 million rubles ($260 thousand)), is registered in the name of his family members. In other words, it is all watertight. After all, it is relatively difficult to prove that Zolotov Jr. is unable to earn enough to pay for a hectare of land in Barvikha. Even if Roman Zolotov became the owner of this luxurious plot of land in 2003, being only 22, and built a mansion with an area of almost 700 m² worth about $10 million over the next three years.
Roman Zolotov's plot
A longtime friend of the Zolotov family, Yury Chechikhin, bought a plot with a total area of 1.2 hectares next to it. Judging by the extracts, he became the owner of local plots in April 2004, March 2005, and April 2008. They made themselves a family manor, the total value of which exceeds 1.5 billion rubles ($22.8 million).
The red outline is the estate of Roman Zolotov, the blue outline is Yury Chechikhin's
All of the above plots were purchased from Rossa-Center, owned by Agrocomplex Gorki-2, providing land for many security officers of the president and the Federal Protective Service. Which means that they fell into the possession of the Zolotov family solely thanks to Viktor Zolotov himself.
By the way, according to the SPARK database, Roman Zolotov, who worked at the MIA's Okhrana FSUE until 2014, is a co-owner of Stroyalliance and Stroyalliance Plus. In June last year, he became a shareholder in the Quantum Technologies research and production association, which is engaged in the creation of crypto-protected communication lines. However, if he is not able to make big bucks in this field, Roman Viktorovich can still be considered a successful and wealthy general's son.
Yury Chechikhin also owns 'modest' 29 acres of land in the village of Kalchug, Odintsovo district, Moscow region, the ownership of which he registered in July 2012. This estate with an estimated cost of up to 70 million rubles ($1.06 million) is adjacent to a plot of 277 m² of Viktor Zolotov. As we can see, the son-in-low stays very close to his beloved father-in-law.
Zolotov's daughter, Zhanna, who owns a 500-meter apartment in the west of Moscow , is directly related to her father's assets.
Viktor Zolotov's daughter and son-in-law
According to the list of residents of the apartment on Veresaeva Street, together with Zhanna, her son Artyom Chechikhin and daughter Evgenia – whose patronymic is Yuryevna, whereas her last name is not Chechikhina but Zolotova – are registered there. It should be noted that Artur Chechikhin mainly spends time in London.
General Zolotov's granddaughter has his last name
20-year-old grandson of Viktor Zolotov, Artur Chechikhin
Which Federal Protective Service officers live well in Russia

It should be emphasized that the employees of the Presidential Security Service and the Federal Protective Service (even if they are former employees) are well above the poverty line. For example, it was reported the other day that the family of Federal Protective Service Official Secretary Nikolay Kondratyuk, 65, owns real estate in the amount of about 900 million rubles ($13.7 million) in the closed elite village of Znamenskie Prostory, located next to the residence of Vladimir Putin's Novo-Ogaryovo. According to the Rosreestr, the general's relatives and related persons own almost two hectares of land in this village.
Federal Protective Service Deputy Director Nikolay Kondratyuk
In 2002, Kondratyuk, who has worked in the state security bodies all his life, established the non-profit partnership Zarya together with his colleagues. In 2003, the partnership bought land in the village of Soloslovo in the Moscow region from the agricultural complex Gorki-2. After that, Kondratyuk had many jobs. In 2008-2012, the Federal Protective Service officer even headed the administration of the Moscow region's Odintsovo district. On top of all of that, he is called Zolotov's housekeeping manager. Given the scale of his 'house', there is plenty things to manage.Pretty much all of Nikolay Kondratyuk's property (including houses, townhouses, land, etc.) is registered in the name of his sons, Gleb and Oleg Kondratyuk, who do not occupy any senior positions and do not own shares in companies. They do not need those positions and shares. Their father's savings are enough. It is noteworthy that with an annual income of almost 11.7 million rubles (the average earnings of Kondratyuk according to his declarations for the period 2016-2018), the official secretary would need at least 76 years to acquire the mentioned property.
Znamenskie Prostory on the map
A plot of land worth 135 million rubles ($2 million), registered in the name of the spouse of the president bodyguard, First Deputy Director of the Federal Protective Service, Viktor Zolotov's successor Oleg Klimentyev, is also located in the Znamenskie Prostory . Members of Zolotov's family reside nearby, in the Rechnoye village. It is likely that this was the reason why Irina Klimentyeva purchased a 2-story house with an area of 751.7 m² and a plot of 2507 m² in Rechnoye in February 2014 to be as close to them as possible. Everyone's full and happy; they have nothing to fear – the villages are guarded by National Guard officers.
Klimentyevs' mansion in Rechnoye
Klimentyev owns two more apartments on Udaltsov Street and Lomonosovsky Avenue in Moscow, as well as a land plot in the village of Yashcherovo not far from the presidential residence on Valdai.  Rumor has it he owes a lot to Zolotov, who, before joining the National Guard, provided Klimentyev with the post of deputy head of the Presidential Security Service. Now, according to available information, Oleg Klimentyev oversees almost all areas of the special services, and according to colleagues, he turned from a relatively modest Federal Protective Service officer into a wealthy and influential general.
First Deputy Director of the Federal Protective Service Oleg Klimentyev
"It is unlikely that relatives helped the Klimentyev spouses to buy the property. Their daughter Svetlana graduated from the Moscow State Institute of International Relations and is fond of Irish dancing; but she is not involved in business, just like her mother. In early 2016, Svetlana's spouse opened a craft beer bar in the very center of Moscow, on Bolotnaya Embankment. In 2016-2017, the bar brought its owner almost 6.5 million rubles ($100 thousand) of income; there are no more recent financial statements in Rosstat," one of the journalistic investigations says.
Clearly, the relatives of Oleg Klimentyev have nothing to do with the acquisition of the elite real estate. Just like Nikolay Kondratyuk's relatives. As for the members of Viktor Zolotov's 'golden family', including his son-in-law Yury Chechikhin, they also owe almost everything to their high-ranking spouse, father, and father-in-law. And even if we look at how Chechikhin runs his personal business, it becomes clear: one way or another, everything is under the patronage of the ex-boss of the Presidential Security Service and the current National Guard head.