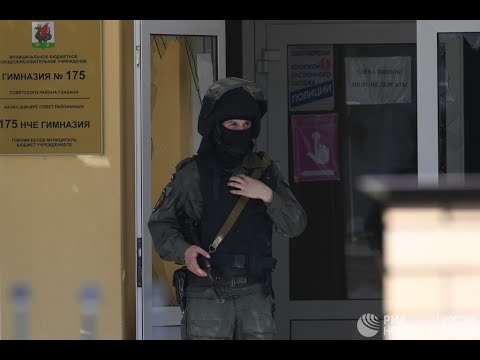 Russian Propaganda Focuses on Kazan School Shooting Tragedy
Publication: Eurasia Daily Monitor Volume: 18 Issue: 78
On May 11, news emerged of a terrible tragedy in Kazan, the capital of the Russian Republic of Tatarstan—19-year-old Ilnaz Galyaviyev brought a weapon to the school he had graduated from four years earlier and opened fire. As a result, seven children and two adults perished, and about 20 more people were wounded.
Little is known of the assailant. But judging from the details that have emerged, he suffered from psychological problems. In the released video of his interrogation, Ilnaz asserts that he "realized I was a god," and repeatedly claims to hate everyone (YouTube, May 11). Prior to the attack, he promised, on social media networks, to "kill a lot of bio-waste" (Kazan.aif, May 11). By all accounts, the incident had nothing to do with politics. And yet Russian propaganda endeavored to quickly fit the school shooting into its agenda. The authorities have already proposed new control measures that, they say, could prevent similar tragedies in the future.
One of the Russian propaganda narratives that immediately grew out of the media coverage was to connect terrorism with the Russian liberal opposition. In particular, those propaganda outlets have sought to tie both of these phenomena to irresponsibly empowered "infantile youth" (T.me.SergeyKolyasnikov, May 11). Some of the arguments associated with this narrative are religious-mystical: they say liberals by their very nature are Satanists, and this is what unites them with the Kazan shooter (Tsargrad.tv, May 11).
In the second propaganda narrative, the chief editor of RT, Margarita Simonyan, suggested that all senior schoolchildren and students be psychologically screened (Twitter.com/M_Simonyan, May 11). The implicitly obligatory nature of Simonyan's proposed screenings raised red flags for some observers considering Russia and the Soviet Union's history of abusing psychiatric treatment to punish critics of the state (see EDM, November 13, 2012). The proposal has, thus, provoked fears that any adolescents undergoing such mandatory psychiatric evaluations who are found to hold opposition views could end up being defined as "mentally unstable." Recent precedents for this certainly exist. For example, in 2015, then-17-year-old Nikolay Podgorny was placed in a psychiatric hospital by his own parents only because he, together with his friend, Vlad Kolesnikov, openly condemned the Russian annexation of Crimea (Krymr.com, January 31, 2016). Kolesnikov, after months of harassment from his relatives and classmates, committed suicide (Svoboda.org, December 26, 2015).
Control over the views of Russian schoolchildren is already tightening. In January of this year, against the backdrop of protests in support of opposition leader Aleksei Navalny, the academic directors of a number of Simferopol schools demanded parents report to them every two hours that their child was under adult supervision (Crimeahrg.org, January 22). Now, if Simonyan's initiative is adopted, such examinations could be accompanied by psychological reprisals against minors.
Third, RT's head additionally proposed a complete revision of the Russian school curriculum, with emphasis on the educational components (YouTube, May 11). Relatedly, the children's ombudsman in Tatarstan, Irina Volynets, declared that the reason for the attack on the school was "an absolute lack of state ideology" (Meduza, May 11).
Fourth, State Duma (lower chamber of the Russian parliament) chairperson Vyacheslav Volodin called for a discussion of a proposal "to reject internet anonymity." A number of participants on Russian talk shows expressed even bolder ideas, proposing to completely block "the alien to us" Western internet, which threatens to "change the ethical code of the nation" (YouTube, May 11).
In reality, such calls are not new, but their sharp escalation following the Kazan tragedy suggest that Russian propagandists are now "testing" public opinion in an attempt to gauge to what degree Russians, especially the youth, are prepared for virtual isolation. At the same time, supporters of the "sovereign internet" idea keep silent about the fact that its very creation, according to IT specialists, would necessarily mean a disconnection from the global online network (Dsnwes.ua, March 9).
Yet it is doubtful that a sovereign internet would actually prevent cases of adolescent aggressiveness (see EDM, April 26, 2017 and October 22, 2018; see Commentaries, November 9, 2018), given that its growth is largely determined by the general intensity of hatred and militarism that exists in the Russian information space. Psychologist Elena Kuznetsova, for instance, argues that it is unacceptable for children to dress up in military uniforms, even though this trend is widespread in modern-day Russia and fully supported by the state (see EDM, November 9, 2016, April 10, 2019, April 15, 2019, January 6, 2021). In her words, the educational message such actions carry for older children is a romanticization of war and death (Facebook.com/ElenaKuznetsova11, April 26).
An atmosphere of hatred is expressed not only in militarism. It is significant that during the entire short video of the interrogation, Ilnaz Galyaviev uttered the same phrase over and over: "How I hate you all!" Even the pro-Kremlin Telegram channel Nezygar noted in this regard that "an aggressive information environment forms the basis for conflicts and the escalation of violence" (T.me/russica2, May 11). The channel also referred to a recent survey by the Levada Center, according to which the level of resentment in Russian society is extremely high. In 2017, 37 percent of respondents observed resentment in Russian society, and in 2021, already 57 percent did. The pollster has also identified high levels of depression and asthenia among Russians: in 2017—40 percent, in 2020—54 percent, in 2021—48 percent (Levada.ru, February 16).
Yet another reason for the growth in adolescent aggression may be the persecution and humiliation of opposition-minded youths in the Russian media. Domestic propaganda channels assure viewers that those who come out to protest are all "mama's revolutionaries" and weaklings who surrender under the blows of truncheons and repent on camera after several hours of questioning and intimidation (Tsargrad.tv, February 2).
Many children and young people exposed to such propaganda narratives over time are liable to internalize the message that embracing violence can prevent them from falling into the category of the weak, whom it is "permissible" to mock. To this, one can add the brutality of the police, increasingly accustomed to battling peaceful students rather than real terrorists, as well as general corruption, thanks to which it is easily possible for anyone to buy a license to carry a weapon. In such an environment, tragic incidents like last week's school shooting in Kazan become nearly inevitable.