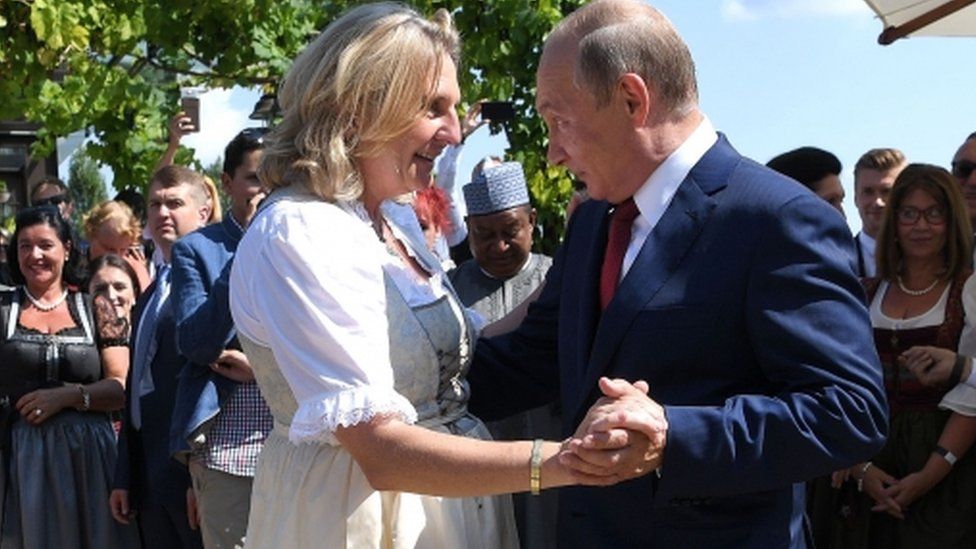 An Austrian ex-foreign minister who danced with President Vladimir Putin at her wedding in 2018 has been nominated to the board of directors at Russian state oil giant Rosneft.
Opposition politicians had accused Karin Kneissl of undermining EU foreign policy with her choice of guest.
Ms Kneissl, 56, left the Austrian government in 2019. She is linked to the far-right Freedom Party (FPÖ).
German ex-chancellor Gerhard Schröder, a friend of Mr Putin, heads the board.
Ms Kneissl has written several books on energy, geopolitics and the Middle East. Her website notes that she graduated in law and Arabic from Vienna University.
She was a diplomat in the 1990s and has written articles on the Middle East and energy for Russian state broadcaster RT and other publications.
She was picked as foreign minister by the FPÖ, which was a coalition partner in the government at the time.
Cossack singers
Ms Kneissl married entrepreneur Wolfgang Meilinger, 54, at a ceremony in the small town of Gamlitz, near Austria's border with Slovenia.
Mr Putin arrived with a bunch of flowers for the bride and was accompanied by a troupe of Cossack singers who performed for the guests.
His spokesman, Dmitry Peskov, told Russian media that he also presented the newlyweds with a painting of village life, an antique oil press and a samovar, an urn used to prepare tea in Russia.
Mr Putin gave a speech in German and toasted the bride and groom, Mr Peskov added.
The Rosneft CEO is Igor Sechin, one of Mr Putin's closest friends and political allies.
The deputy to Gerhard Schröder on the Rosneft board is a fellow German, banker Matthias Warnig, who has long had management posts in Russian state companies. He was in the East German Stasi secret police during the Cold War.
Mr Putin served with the Soviet KGB in East Germany, before the collapse of communism.
A Swiss banker, Hans-Jörg Rudloff, is also on the Rosneft board, along with several top Russian executives close to the Kremlin.
Mr Warnig is also CEO of Nord Stream 2, the giant pipeline consortium aiming to boost Russian gas supplies to Germany. Poland is among several EU nations opposed to the project.
Mr Schröder chairs the Nord Stream 2 Shareholders' Committee.