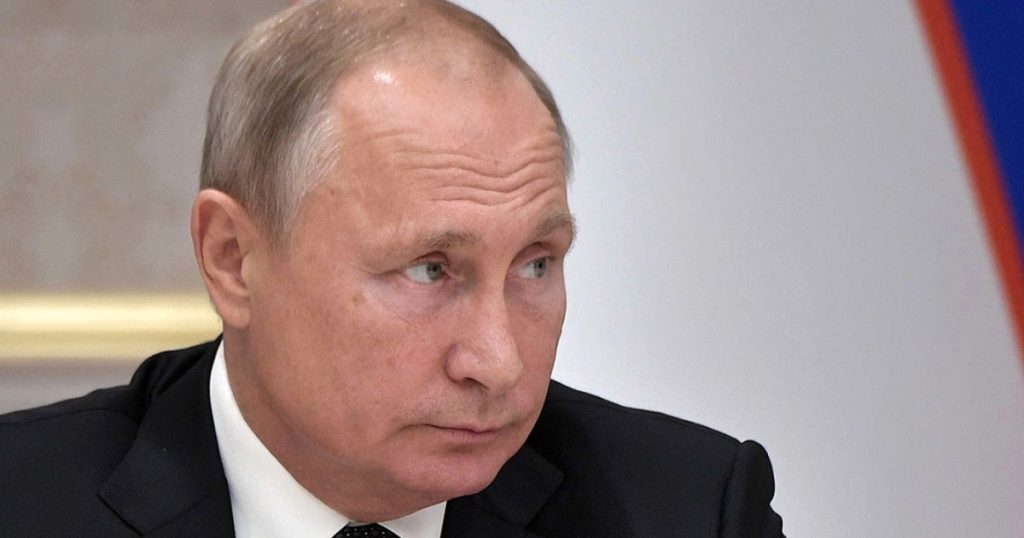 The largest caucus of Republicans in the House of Representatives, the Republican Study Committee, has a new strategy for dealing with Russian President Vladimir Putin.
In a new report due to be released on Tuesday, Strengthening America and Countering Global Threats, the RSC will offer creative proposals on how to counter the rising threats of China, Iran, and Russia. The Washington Examiner was given an early look at the report's Russia section and access to two members of Congress driving this effort, RSC Chairman Mike Johnson and Rep. Joe Wilson. The section is impressive, to say the least.
Documenting Putin's effort to undermine U.S. interests around the world, the report evinces the clear truth that Putin is presently undeterred. From Libya to Syria to Iran to Ukraine to Salisbury, England, and from the Mediterranean Sea to the South China Sea, Russia is damaging American interests and undermining the democratic international order. The report addresses these challenges by proposing the "toughest package of sanctions on Russia ever proposed by Congress."
That's not an exaggeration.
At a financial level, the RSC calls for imposing "secondary sanctions on companies supporting special Russian petroleum and natural gas projects." It adds that "Congress should sanction the purchase of new Russian sovereign debt," "require the Department of the Treasury to place Vnesheconombank on the Specially Designated Nationals and Blocked Persons (SDN) list," and that it should "mandate sanctions on the Society for Worldwide Interbank Financial Telecommunication (SWIFT) until it expels Russia from the international SWIFT code system." Oh, and it calls on the United States and its allies to conduct regular "financial exercises" to prove to Putin that future aggression will lead to rapid and well-organized sanctions retaliation.
Phew. This is huge stuff.
It would cripple Putin's conduits to international financing and commerce. In doing so, these measures would dramatically weaken Putin's ability to conduct hostile activity. Crucially, also, it would hit Putin's inner circle of oligarchs, including Oleg Deripaska, Roman Abramovich, and Alisher Usmanov in their pockets. That would mean pressuring the former KGB officer's stability at home. As Johnson told me, "You have to hit them where it hurts."
To be clear, Russia will be extremely upset simply reading that these proposals are under discussion.
But there's more.
The RSC calls for designating Russia a "State Sponsor of Terrorism for its support of the Iranian Islamic Revolutionary Guard Corps, Hezbollah, the Taliban, and the Russian Imperial Movement." Doing so would call Putin out for fueling global terrorism even as he reaps the dividends of U.S. intelligence cooperation for Russia's own counterterrorism security.
The report calls for strengthening Georgia's defense capabilities and upholding U.S. commitments to Tbilisi developing a democratic rule of law. It also calls for renewing the "Ukraine Security Assistance Initiative and expanding it to include anti-ship weapons." Why anti-ship weapons? Because Russia is turning the Ukrainian Sea of Azov into a sea of pirates.
Yet, this report isn't simply about countering Russian aggression.
In equal measure, it's about offering a better message to the Russian people. Recalling previous visits to Moscow and St. Petersburg, Wilson elucidated his deep affection for Russia's history, culture, and its people. But he said he wanted them to know what America stands for as they seek their own improved freedom and quality of life. Toward that end, the report would reconstitute the U.S. Information Agency.
A Cold War-era organization that promoted U.S. values abroad, the agency was disbanded in 1999 under the leadership of then-Senate Foreign Relations Committee Chairman Joe Biden. Since then, the work of outlets such as Voice of America and Radio Free Europe/Radio Liberty has focused on delivering news without specific regard for U.S. interests. Considering highly successful Russian efforts to promote Putin's interests and growing Chinese efforts to do the same, the report rightly identifies the need to promote U.S. values abroad. The Information Agency has the legacy to do that.
And, Wilson added, the U.S. has the guts to do this even where it inevitably upsets Putin's cronies.
He recalled an amusing story of how his wife, Roxanne, resisted Russian intimidation at the 2016 Republican National Convention. A camera crew from Russia's premier West-focused propaganda outlet, RT, set up directly in front of Roxanne and another South Carolina delegate, Jane Page Thompson. Explaining to RT that it was obstructing the view of Donald Trump's acceptance speech, the two ladies were ignored. However, Wilson added, RT became willing to move when the ladies warned that failing to do so might cause it to "suffer some bodily harm."
The point is not simply humorous. Grappling with Russia's profound challenge to the U.S.-led international order, the U.S. must be willing to go eyeball to eyeball with an adversary that revels in doing the same. This report does that.
Where does this leave us?
With the crunch question: Will Democrats support these proposals? Johnson said he hopes so. "We would be grateful," Johnson said, if Democrats come on board. He pointed out that "there's a chance for them to prove they're truly against Putin."
We shall see. Regardless, this report should form the foundation of GOP policy toward Putin going forward. Its authors and supporters deserve much credit.