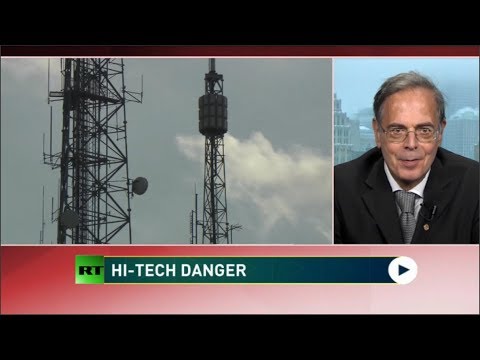 Algorithms are sending ads by American brands onto Russian disinformation sites.
By L. Gordon Crovitz
Mr. Crovitz is a co-founder at NewsGuard, which rates news publishers based on their reliability.
Lenin is sometimes said to have predicted that capitalists would sell Russia the rope with which they would be hanged. Yet not even Lenin could have imagined Vladimir Putin's success in getting some of the largest Western companies to subsidize his disinformation efforts by advertising on his government-run "news" websites.
The top programmatic advertiser on Mr. Putin's Sputnik News site? The Oracle of Omaha, Warren Buffett, through ads bought on behalf of Berkshire Hathaway's Geico insurance. Sputnik News peddles Kremlin propaganda on topics such as Syria and straightfacedly reports Mr. Putin's denials of interfering in other countries' elections.
Geico is hardly alone in financing propaganda through what's called "programmatic advertising," ads that are placed automatically by algorithms, without judgment based on the content or journalistic standards of the websites. Mr. Putin's leading disinformation arm, RT.com, attracted programmatic advertising from 477 companies and brands over a recent six-month period, according to data collected by Moat, an advertising technology service. Among RT.com's top 20 programmatic advertisers: Amazon, PayPal, Walmart and Kroger. For Sputnik, its 196 programmatic advertisers in addition to Geico included Best Buy, ETrade and Progressive Insurance.
These all-American brands don't intend to subsidize the Kremlin. The problem is that with programmatic advertising brands can target the kinds of audiences they want to reach online, rather than specifying, as they once did, on which websites their ads should appear. As a result, these ads inadvertently end up on all kinds of inappropriate sites.
It's hard to estimate the revenue the Russian disinformation sites earn from these programmatic ads. Based on web-traffic data from Similar Web, and assuming an average cost per thousand page views of $3, RT.com earned $5.1 million in programmatic revenues over the past six months, with its smaller Kremlin cousin Sputnik News earning less.
Whatever the amount, companies are supporting websites that are the very definition of corporate social irresponsibility. RT describes its role as encouraging people in other countries to "question more" — that is, promoting divisiveness in the United States and Europe. It publishes falsehoods such as denying that the Russia-backed regime in Syria used nerve gas on its own people.
A new theme on RT is that the emerging wireless 5G technology causes cancer. RT also reports that 5G cell towers cause learning disabilities and nose bleeds in children. No research establishes these risks. (Russia is far behind in 5G, which may explain this line of disinformation.) Despite this scaremongering, telecommunications companies that depend on the success of 5G have advertised on RT, including T-Mobile, CenturyLink, Comcast and Vonage. Cisco has advertised on RT, even though it is investing heavily in 5G technology.
Even companies known for carefully protecting their brands have ended up advertising on RT, including Consumer Reports, AARP and Walt Disney. Ads for Mount Sinai Hospital, which is known for its work in oncology, have almost certainly appeared alongside articles about the supposed link between 5G and cancer.
It's not just Russian propaganda that benefits from online advertising. Many health care hoax sites thrive on revenue from inadvertent advertisers. A site called Real Farmacy also pushes the 5G-causes-cancer hoax. One of its headlines read, "5G From Space: Not One Inch of the Globe Will Be Free of Radiation." Its top 20 advertisers include the 5G-promoting telecommunications companies Verizon, Vonage and AT&T.
Among the top 20 advertisers on the site Healthy Holistic Living, which has promoted milk thistle as a cancer treatment, are Amazon, Citibank, Hertz and Hilton — as well as the Navy Federal Credit Union. A site called Healthy Food House, which ran an article that said, "Our aim today is to persuade you that there is no such a disease as cancer, as it is only a B-17 deficiency," carried advertising from the University of Texas M.D. Anderson Cancer Center. Its top two advertisers were Amazon and Google.
A website perhaps appropriately called The Mind Unleashed, which blamed Israel for the Sept. 11 attacks and claimed that certain foods are better than radiation or chemotherapy for cancer treatment, ran advertising from Procter & Gamble, CBS and Best Buy.
Some advertisers have tried to keep their ads off inappropriate sites. Procter & Gamble stopped advertising on YouTube in 2017 for a year because its ads kept appearing alongside videos promoting pedophilia and white supremacy.
The broader problem, however, remains.
Some advertisers are trying a cure worse than the disease. Instead of deciding which websites to support with advertising and which to shun, advertisers use a black list of words like "Trump," "taxes" and "antitrust," keeping their ads off web pages that mention such topics. This amounts to a boycott of serious news.
Other advertisers such as JPMorgan Chase have had their staff try to decide which news sites are safe for their brands. However, the lists they compile can quickly become outdated because there are so many new purveyors of misinformation. The company I work for, NewsGuard, provides this service for a fee. And there are others coming into this field, including the Britain-based Global Disinformation Index, as advertisers recognize the dangers of buying space on disinformation sites. Finally, some of the big platforms, including Facebook and Google, offer options to advertisers to determine where their ads will appear.
Advertisers and ad agencies that limit their programmatic ads to trustworthy news sites do more than keep their brands safe: They also return advertising revenues to news publishers that badly need the support.
If this approach catches on, Mr. Putin will just have to spend more of his government's own money to promote its disinformation.
L. Gordon Crovitz, a former publisher of The Wall Street Journal, is a co-founder and co-chief executive officer of NewsGuard, which rates news publishers based on their reliability.
The Times is committed to publishing a diversity of letters to the editor. We'd like to hear what you think about this or any of our articles. Here are some tips. And here's our email: letters@nytimes.com.
Follow The New York Times Opinion section on Facebook, Twitter (@NYTopinion) and Instagram.